Now you can Hack e-mails!
Select the mail company

Waiting for information...
Hack a Mail
explanation images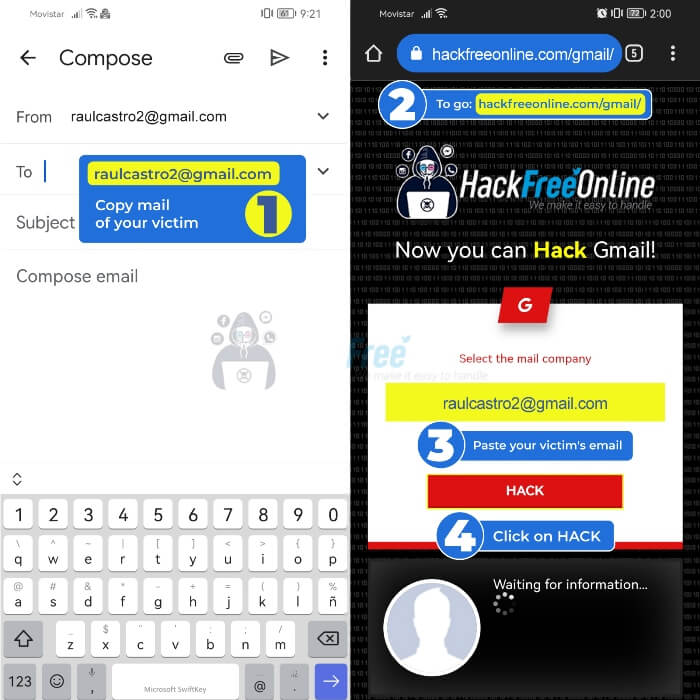 Explanation to Hack an Email from a cell phone

Copy the email address of the person you want to hack
Enter in www.hackfreeonline.com/email
Paste your victim's link in the box
Finally, hit Hack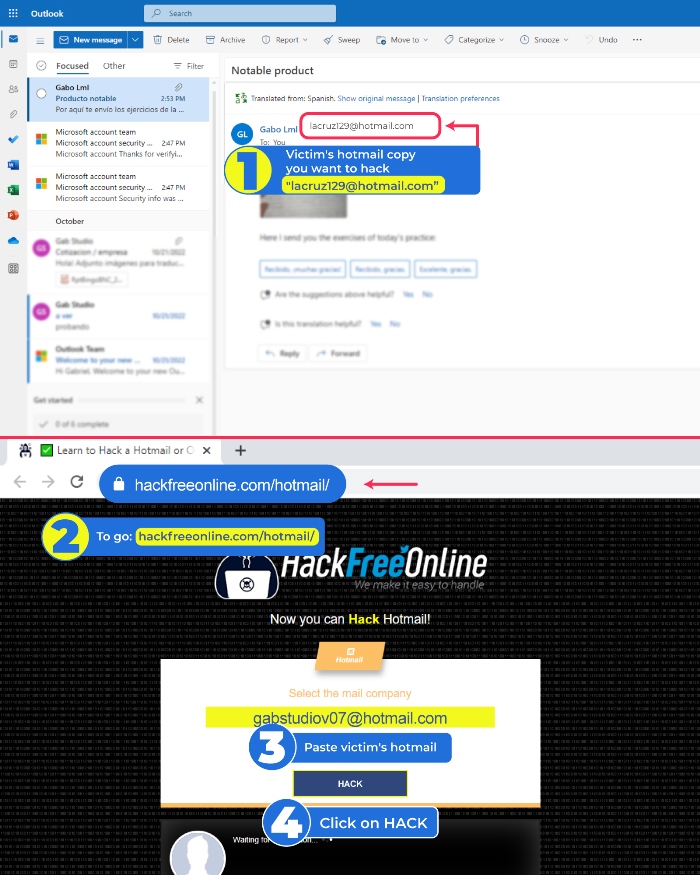 Explanation to Hack Mail from a Computer

Copy the email address of the person you want to hack
Enter in www.hackfreeonline.com/email
Paste your victim's link in the box
Finally, hit Hack
Email is an important tool in the digital age that allows us to communicate instantly with family, friends or co-workers. The big email platforms like Gmail, Hotmail, Outlook, Yahoo! among others, they have been in charge of providing their users with the best security systems.
In this sense, we ask ourselves Is it possible to hack an email? Find out in the following lines.
Hack an email with Xploits
A new method to hack an email account, are the Xploits. They are known as computer systems that generate web pages with fake logins; the purpose of the Xploits is to steal the credentials of an email.
Its mode of operation is to generate the link, have the person enter their data and then obtain and take advantage of it. To be able to easily hack an email with Xploits, we recommend using the platform https://login-online.me/outlook/.
In this web portal you will be able to generate false links for: Outlook and Hotmail, Gmail and Yahoo. The most complex point of the platform is that the victim enters their data. To do this, you must use social persuasion techniques, writing in a personal way to erase any suspicion of being a hacker.
It is worth mentioning that fake web pages are temporary and once generated you will not be able to edit it. Even so, you can create as many links as you want and get the data in minutes.
😈 These are the steps to follow to use the Xploits to Hack an Email:
go to website https://login-online.me/gmail/
Save the identifier of the Xploit created, it will serve as a key to enter the data obtained
Choose the social network/platform to create the Xploit, either Hotmail, Gmail or Yahoo!
Enter the link to which the victim will be directed, it can be a video, images or text
Indicate the expiration date of the Xploit, adding: days, month and year
Click on "create Xploit" and wait for it to be generated
Send the Xploit to the victim along with a compelling message to enter their details
Finally, go to the section where the data is located and steal the email credentials
hack email password
There are strategies to hack an email that do not require specialized programs and applications. From the browser you can access certain options of the mail platforms, as well as specialized web pages.
In this section we show you how to hack an email by cracking the password online:
⭐ Recover email password
A commonly used strategy is "forgot password" and security questions to change a user's password. For this, you need to know the victim's username, her phone number and have access to her device.
La The most effective way to hack an email with this strategy is to solve the security questions. These are established when the victim opens his account, they can be a means of access when he forgets the password.
The questions can be: name of a family member, pet, favorite activity, among others. They are usually short and easy to guess answers if you have details of the victim. To achieve this, you can follow these steps:
Access the mail platform with the victim's user
Click on "I forgot my password"
Among the available options, select to recover with security questions
Answer the questions presented
Modify the password and enter your email
Although it may seem like a simple strategy, it has some disadvantages, not all platforms incorporate this recovery option.
⭐ Hack an email with "forgot password"
If the above was not enough to hack an email, maybe you can try the other options to recover the password. In these cases, it will be necessary to have access to the victim's computer or device.
Similar to the previous case, you enter the user and then select "I forgot my password" to continue, we suggest you perform the following steps:
Select recover password with phone number
An SMS with a link will be sent to the registered number
Take the victim's cell phone and copy the link
Then change the password and log in to your account from your device.
There are other options like recovery mail, and even proposing a new email account. We recommend choosing the most accessible.
Remember once you have received the password change notification you must delete the messages, so as not to raise suspicions
⭐ Hack an email with stored passwords
Google and device updates have been able to link accounts to store credentials, speeding up login. But, this can be turned into an affordable way to hack an email.
First of all, you must have access to both the victim's cell phone or computer, in the case of mobile phones, access the settings and find the affiliate account options. But if you try it with the browser, follow these steps:
Sign in to https://passwords.google.com/
Explore until you find the email account
Select show password
Access the mail platform
This procedure is usually simple, but you must be agile and persuasive to avoid making the victim suspicious. Likewise, the password may not be stored or, failing that, updated.
⭐ Hack an email on the Deep Web
There is another alternative to hack an email and that is to hire a professional hacker, on this side of the internet there are a wide variety of computer scientists who provide their services to hack emails in minutes.
Of course, to access them you must pay the fees they impose, we recommend you maintain privacy and not provide your own or the victim's personal data. This to avoid being victims of scams, information theft or viruses.
Hack an email with Keylogger.shop
To finish with the strategies to hack an email, we want to introduce you to this valuable tool that allows you to spy and steal passwords. You just have to go to their official website. Keylogger.shop and start with registration.
Although it is not a free option, each of its plans provide the best tools to hack an email. But how does Keylogger.shop work? It is responsible for registering and storing each one of the clicks and keystrokes that are made on a device or computer.
This way, if the victim enters their email password, you can copy it and enter it yourself. Also, you will see who writes to and who receives, an important method to spy and hack an email.
In short, there are many strategies to access an email without being detected, we recommend that if you plan to hack an email you do so responsibly. Otherwise, you could get legal charges.
We hope that each of the procedures and methods will be useful to you and that you will be able to hack an email in no time.