Now you can Hack a Facebook!
Insert the Facebook profile URL:

Waiting for information...
Hack Facebook
Explanation images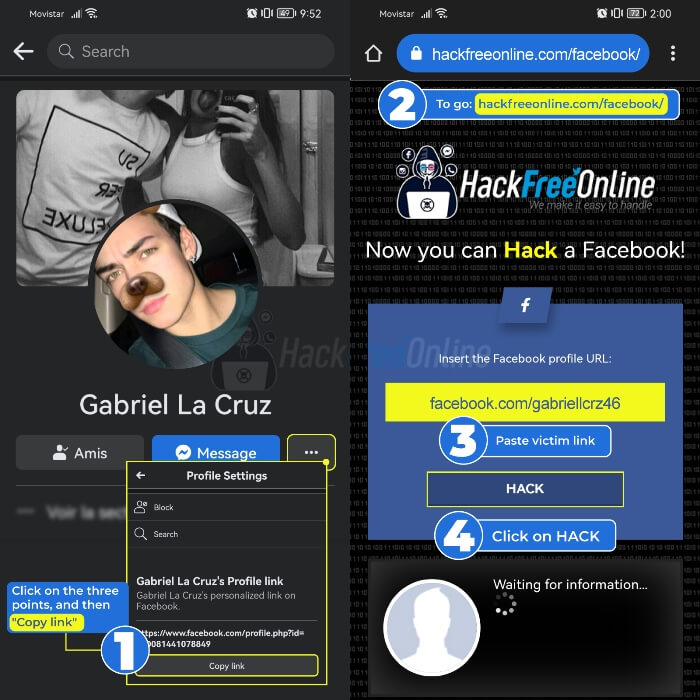 Explanation to Hack Facebook from a cell phone

Go to the profile of the user you want to hack and click on the three dots, and copy the facebook link
Anger www.hackfreeonline.com/facebook
Paste your victim's link in the box
Finally, hit Hack.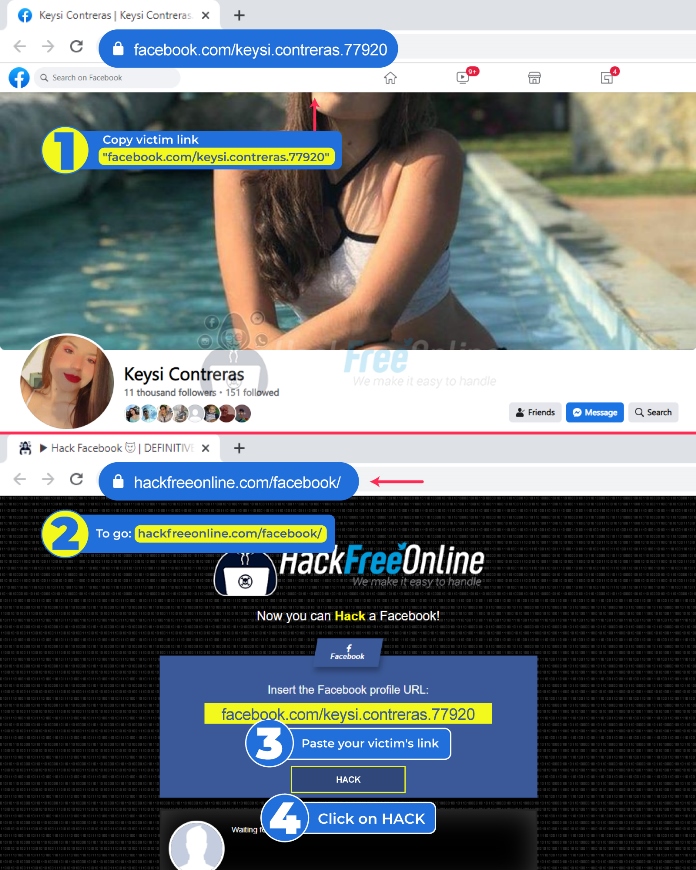 Explanation to Hack Facebook from a computer

Enter your victim's Facebook from your browser, and copy the link
Anger www.hackfreeonline.com/facebook
Paste your victim's link in the box
Finally, hit Hack.
If you want to enter the Facebook account of someone you know, we offer you some methods to hack Facebook in a few minutes:
Hack Facebook with Xploits
Xploits are computerized systems that simulate web pages, platforms or social networks like Facebook to digitize the data of various users. Here are some steps to create an Xploits.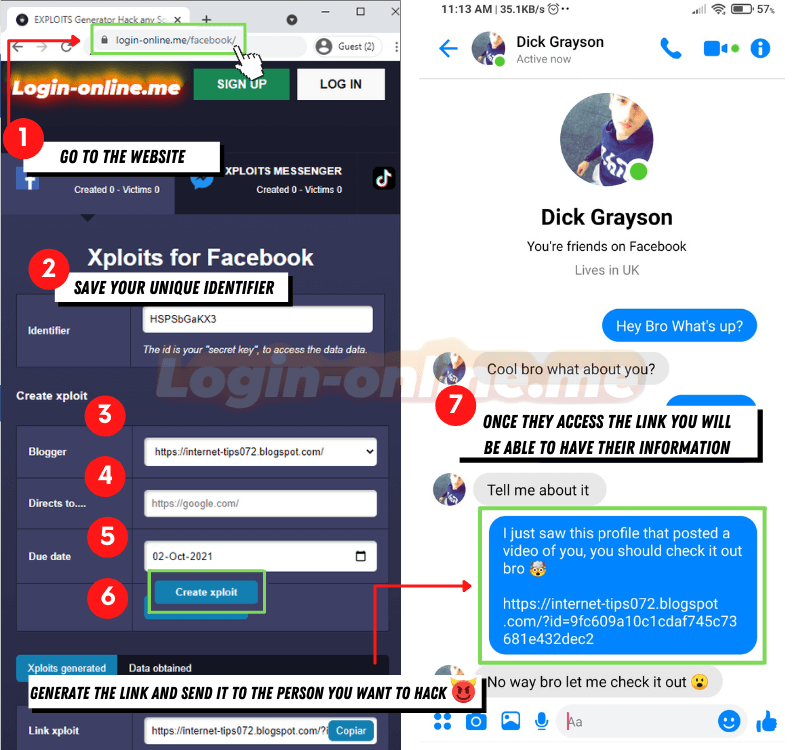 Access the official site https://login-online.me/facebook/
Save the generated identifier, this will be your key to enter the results
Create the Xploits detailing the blogger
Then enter a link can be from Facebook or YouTube
Choose an expiration date, until that day the Xploits service will be operational
Once the previous data is available, you must press "Create Xploit"
Send the generated link to the victim accompanied with an inspiring text that is convincing to get the favorable data to hack Facebook
When the victim enters their data, the link can be downloaded and used
On the website you can view the tracked passwords. It's a piece of cake! 😈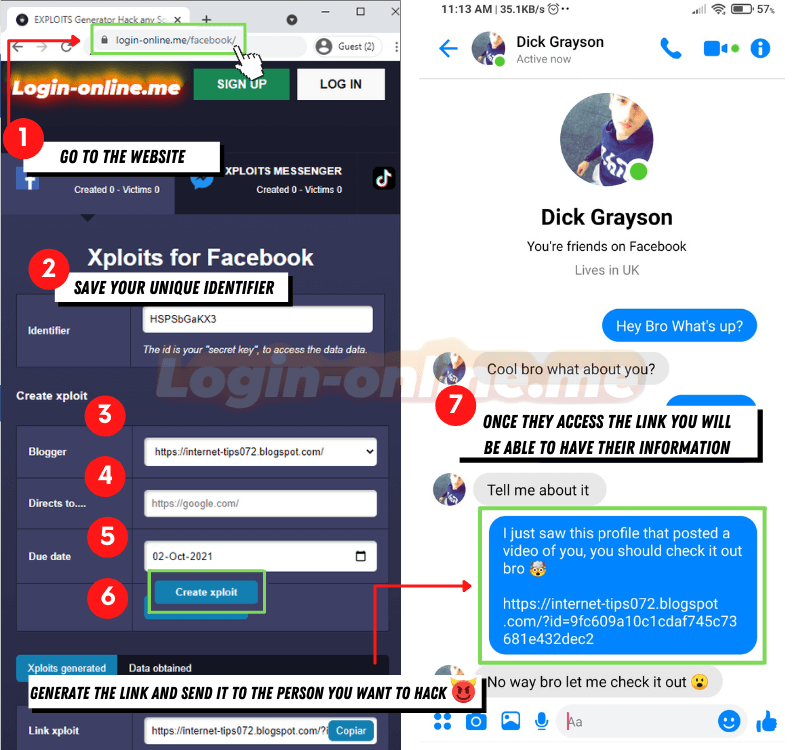 If all goes well, in less than 1 minute you will be able to get the data to enter and hack a Facebook account for free. One of the advantages of this method is that it facilitates the creation of different links and their order by means of identifiers.
The purpose of hacking Facebook with Xploits is that this system is responsible for violating the security of users to obtain the required data, which can be:
✅ Use social engineering to hack with Xploits
The Xploits use the remote vulnerability to be able to take control of the administrator and have the data of Facebook. They are an effective method as long as they are accompanied by social engineering and best of all, it is not necessary to be a computer expert to be able to use the Xploits to Hack Facebook.
Therefore, it is recommended to send a convincing message to prevent the victim from characterizing the link as a virus or harmful. Perhaps it is one of the most complex points of the method, but if you succeed, you will be successful in hacking a Facebook account.
Hack Facebook using "forgot password"
Another effective method to hack Facebook is to use the "I forgot my password" option. To do this procedure, it is important to know the data of the victim. The user details are essential for the hack to be effective.
The first thing you should do is enter the login Facebook and click on "forgot your password?"
Then options to reset the password will be displayed, you need to click on "you no longer have access to this?"
Doing this will prompt you to enter a new email address to send password reset links.
In case this method does not work, there is another alternative to hack Facebook with "I forgot my password" you just have to select the account recovery with the help of a friend.
You will have to answer some security questions, if you know the user well, you will probably be successful. Otherwise, you will have to ask their acquaintances or the user.
Hack Facebook with Google Password Manager
A tool to hack Facebook fast is the browser password manager, user credentials are stored here on different platforms. In order to Hack the attacker must have access to the victim's computer or device. If you want to try this method, here are the steps:
Enter in https://passwords.google.com o Storing victim's browser passwords
Search through the options until you find Facebook
Click on show passwords to see the results, sometimes it may ask you for some verifications
Discover the password and use it in your favor.
It is a very simple and convenient method to find out the user's Facebook password, of course, it has some disadvantages, for example, there is a possibility that the user does not have the password in the manager.
Hack Facebook with Keylogger
If you want to hack Facebook, another excellent alternative is to make use of Keyloggers, which are applications that record the keystrokes or keys that are marked on the computer. For this, you must download the program on the victim's device without them noticing.
One of the best apps is Keylogger.shop, by downloading and installing it on the device. One of the advantages of this application is that it usually runs in the background and manages to record every detail of the phone or computer, then you can log in to obtain: passwords, emails and usernames.
The program is useful for both Windows, Mac, IOS and Android operating systems; It also takes screenshots to record the applications on the device. It is a tool to monitor, spy and hack Facebook with a high percentage of effectiveness.
How to protect a Facebook account?
Indeed, there are many spy, invasive and attack tools that claim to hack a Facebook account, for this there are some useful strategies to evade these threats. In this way we offer you simple tips to protect your Facebook account:
✅ Security and authentication
A first piece of advice is to activate two-step verification, this function defends you against possible hacker attacks. It consists of a notification or alert where you must place a code to identify the authenticity of the person, it is activated every time you log in on a different browser or device.
Using weak or easy-to-guess passwords is not recommended in a time of technological advances, it is recommended to add passwords that according to the Facebook security meter are 100% safe and strong. Likewise, it is important to constantly modify them, since it is a strategy to evade hackers.
✅ Avoid links or unreliable networks
It is recommended not to click on "unsafe" links to prevent hackers from breaking into Facebook accounts. Also, public networks may have settings that take advantage of user data.
How easy is it to hack Facebook?
Hacking Facebook is easy, there are applications, programs and tools that speed up the process and guarantee results in minutes. Therefore, we remind you to use them responsibly and in justified cases to avoid criminal consequences.
In addition, we recommend taking care of privacy so as not to be victims of viruses or attacks by professional hackers. We hope that this information is useful to you and that you can use it wisely..