Now you can Hack Gmail!
Select the mail company

Waiting for information...
Hack Gmail
Explanation images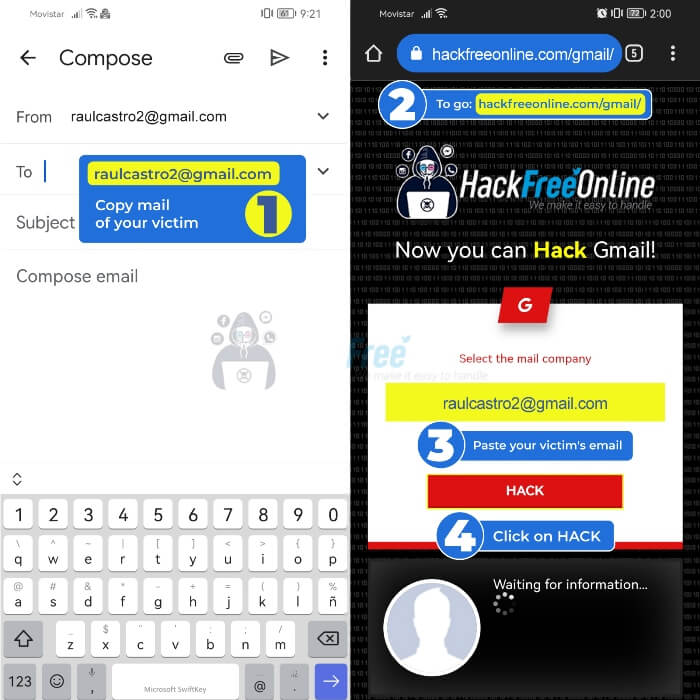 Explanation to Hack Gmail from a cell phone

Copy your victim's Gmail address
Anger www.hackfreeonline.com/gmail
Paste your victim's email in the box
Finally, hit Hack.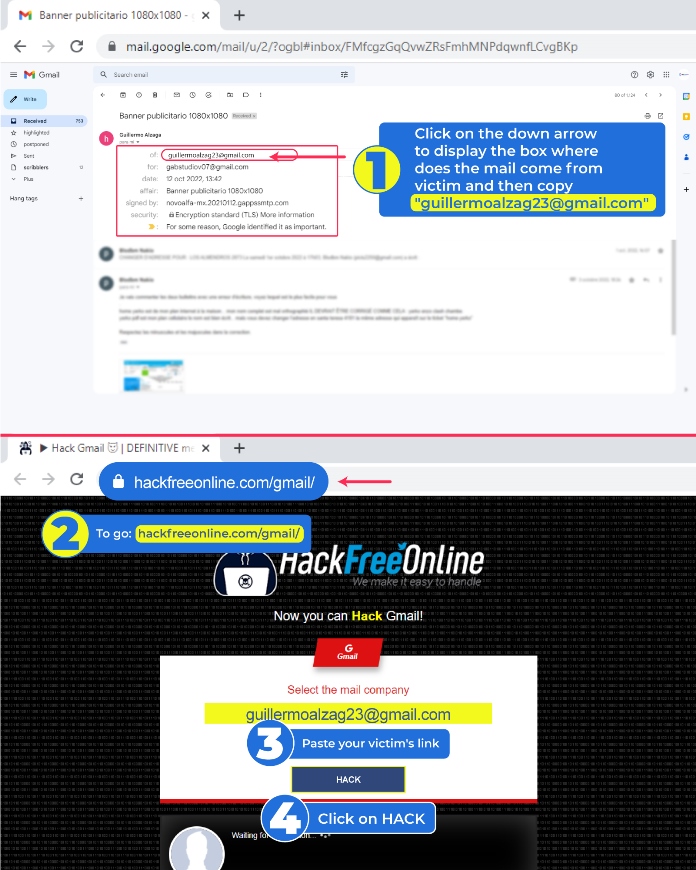 Explanation to Hack Gmail from a computer

Copy your victim's Gmail address
go to www.hackfreeonline.com/gmail
Click on "Gmail" and paste the email in the box
Finally, hit Hack.
Introduction
Gmail is one of the most secure and difficult to hack email platforms, it has been presented as an application where only the owner of the email can read the messages. Therefore, it is thought that it is complex to access a Gmail account without knowing the password, but this is not entirely true.
The above is due to Gmail's security system, however, there are hundreds of tools to hack Gmail. As technology is constantly growing, some computer scientists devise methods to exploit systems and find confidential information from Other users.
Some of the reasons to hack Gmail are to discover infidelities, copy tasks or keep an eye on the little ones in the house. That is why in the following content we will present you easy and free methods to hack Gmail.
hack gmail with browser
Is it possible to hack Gmail without using computer tools or espionage services that could violate my own security? The answer is a resounding yes! For this, Google offers us some functions that you can use in your favor.
This technique is called "access theft" to achieve it, you only have to have access to the victim's computer or device. Once inside, you will have to enter the Google password storage through https://passwords.google.com/.
The advantage of this hacking technique is that you do not need to be an expert in system vulnerability. You just have to do the following:
Sign in to the Google password manager
Locate the stored user's Gmail username and password
Log in to Gmail with the credentials obtained
A very fast and easy process to hack Gmail, a recommendation is to be cautious and fast so that the victim does not suspect.
Hack Gmail with Xploits
Another effective method to hack Gmail is Xploits, the function of this computer tool is to find and take advantage of flaws in Gmail systems. Xploits can be understood as the commands created to generate behaviors that take control of an administrator, in this case of a Gmail account.
By using Xploit, the user will be carrying out a DDoS attack that is characterized by emulating the appearance of Gmail to achieve:
The email
passwords
security access
✅ How to hack with Xploits?
Xploits have remote vulnerability mode of operation. In this way, through the network, they will find or generate a security flaw, so that it is easy to access Gmail. Now, to be successful with this computer system you must follow these steps:
Enter the official site https://login-online.me/gmail/
Write down the generated identifier, this will be your key to enter the results
Generate the Xploits detailing the Blogger and enter a link that can be from Facebook or YouTube
Choose an expiration date, until that day the Xploits service will be operational
Once the previous data is available, you must press "Create Xploit"
Send the generated link to the victim to be hacked with a message that inspires confidence and is convincing so as not to fail in data hacking
When the victim enters their data, the link can be downloaded and used
With the xploits you can create multiple links to violate the security of the victims, therefore, if you fail on the first attempt you can do it as many times as you want to finish to obtain the necessary results. An important point is the attractive message or "social engineering" that generates trust in users and avoids suspicions of cheating.
Hack Gmail with Keylogger
One of the most used tools to Hack a Gmail account are Keyloggers, which are hacking systemsideal for stealing information and passwords. A disadvantage of this tool is that you need prior knowledge to create it.
But you do not have to fear, we will explain how it works. The purpose of the Keylogger is torecord the keystrokes or keys of the computer or device. In this way, if the victim logs into Gmail, it will record each word and thus you will access their password.
Now, here are some steps and tips to hack Gmail with Keylogger:
Access the website of Keylogger.shop and choose the ideal plan for you
Login with confidential username and password
Activate privacy options and incognito mode
Start control and monitoring according to your needs
Although some antiviruses can detect keyloggers, hackers and developers of these techniques continue to perfect computer espionage. To be successful you must install the tool on the victim's computer.
Hacking with the deep web
A final alternative to hacking Gmail is to find a professional espionage and vulnerability of security systems on the Deep Web. In this space you can find computer scientists who offer their services for not so expensive prices, among their services are: DDos attacks, Xploits, Trojans and phishing.
It is important to be aware of scams that can lead to privacy and even legal issues. We must also take extreme security measures when entering the Deep Web since our equipment can be contaminated with malware and expose personal data.
How to protect my Gmail account?
As you may have noticed there are numerous tools, applications and programs to hack Gmail. And in times where most of the information is concentrated in devices, computers or emails, protecting yourself from cyber attacks is a necessity.
For this we want you to have some tips to avoid being victims of hackers in your Gmail account:
✅ Security verification actions
With these options you can activate personalized recommendations to have a unique access to your account. Among the most frequent, it highlights the recovery options that work by entering the telephone number and email.
Likewise, two-step verification is an infallible method to avoid being a victim of hackers, for this you can create a security key or receive messages from Google.
A second piece of advice is to keep devices, computers, and even browsers up to date. Well, outdated software leaves the door open for hackers.
Perhaps the most important advice: use a password that is unique and strong; by creating a key in Google you will have an indicator of how strong your password is. Also, it is not recommended to have the same credential on all platforms.
✅ Remove extensions and avoid suspicious messages
One last piece of advice, avoid all those applications and extensions that may violate the security of your computer or mobile device, compromising the privacy of the Gmail account.
Conclusion Is it worth hacking Gmail?
In general, it is possible to hack a Gmail account with the strategies that have been proposed in this article. To be successful, you don't have to be a professional, but you do need to keep a low profile, taking care of attacks that threaten personal privacy.
Given this, you must remain alert to cybercrime and use each of the tools explained above responsibly. Remember to only hack in legally justifiable scenarios. We hope that these methods have been useful to you in your mission.