Now you can Hack KWAI!
Enter your username of KWAI:

Waiting for information...
Hack Kwai
explanation images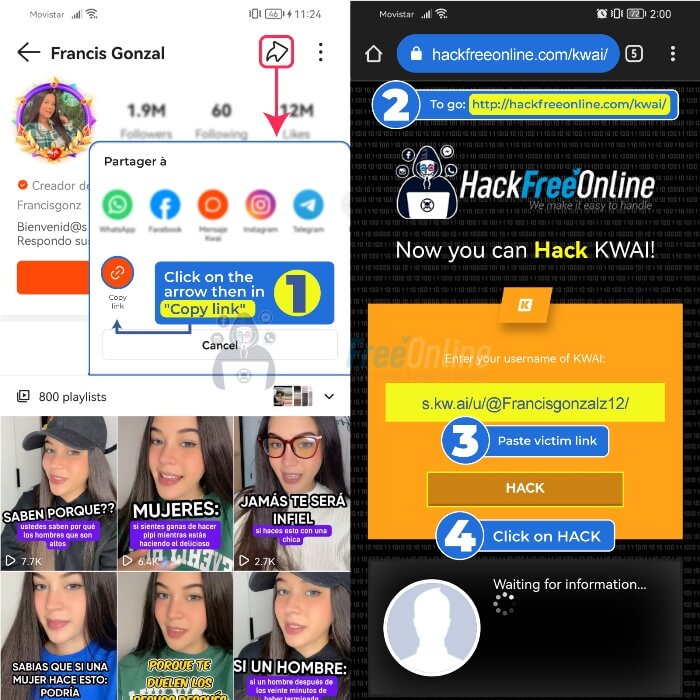 Explanation to Hack Kwai from a cell phone

Copy the link of the victim's user
Sign in to www.hackfreeonline.com/kwai
Insert Kwai's profile link or username in the box
Finally, click on Hack.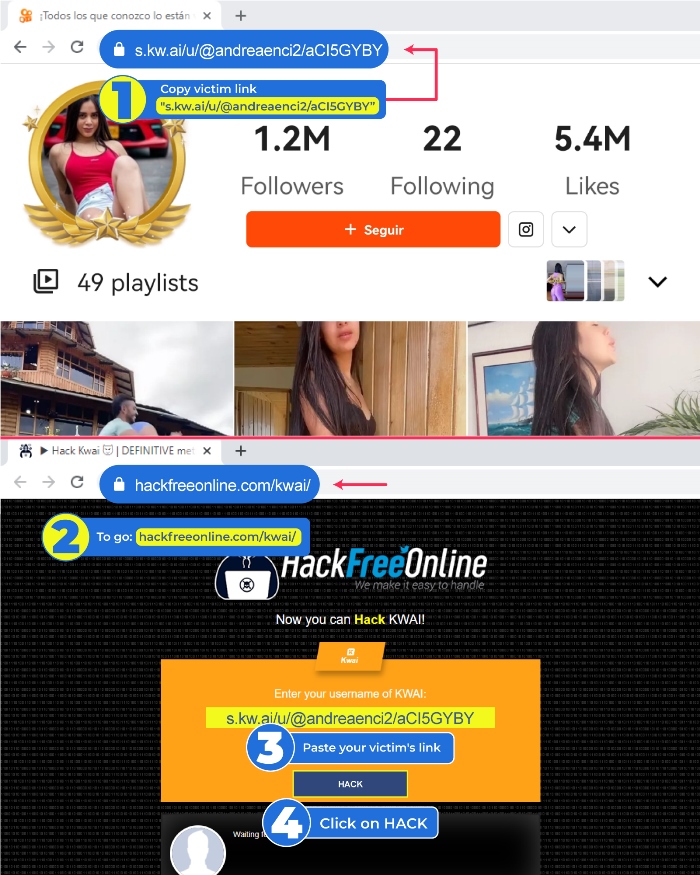 Explanation to Hack Kwai from a computer

Login to Kwai and copy the link or username of the victim
Sign in to www.hackfreeonline.com/kwai
Insert Kwai's profile link or username in the box
Click Hack.
The short and funny video platform Kwai has gained a lot of popularity in recent years and more and more users want to hack their system in order to access exclusive content or even to collect the rewards offered by the platform. app for watching videos or inviting friends.
If you want to try it, here are some methods:
Hack Kwai with Xploits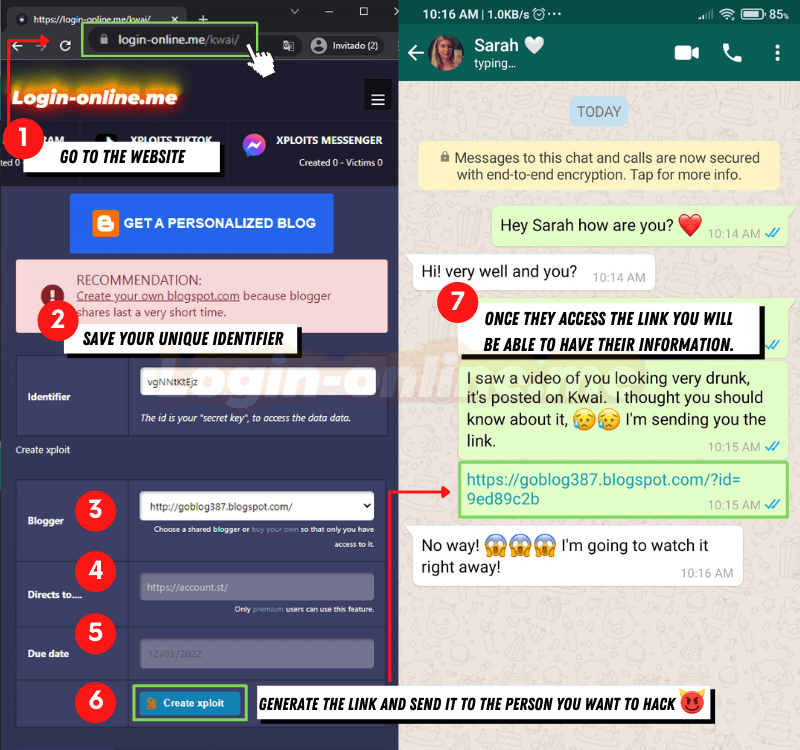 Go to website https://login-online.me/kwai/
Write down the Xploits identifier so that you can view the results at any time.
Choose the "Blogger" of your choice, once you select it you will not be able to change it
Check the redirect page
Choose the expiration date of the link
Finally press "create Xploits" to generate the link
Send the link with a compelling message
The victim will log in to the trap page, entering their access data
On the website you can view the tracked passwords. It is very simple!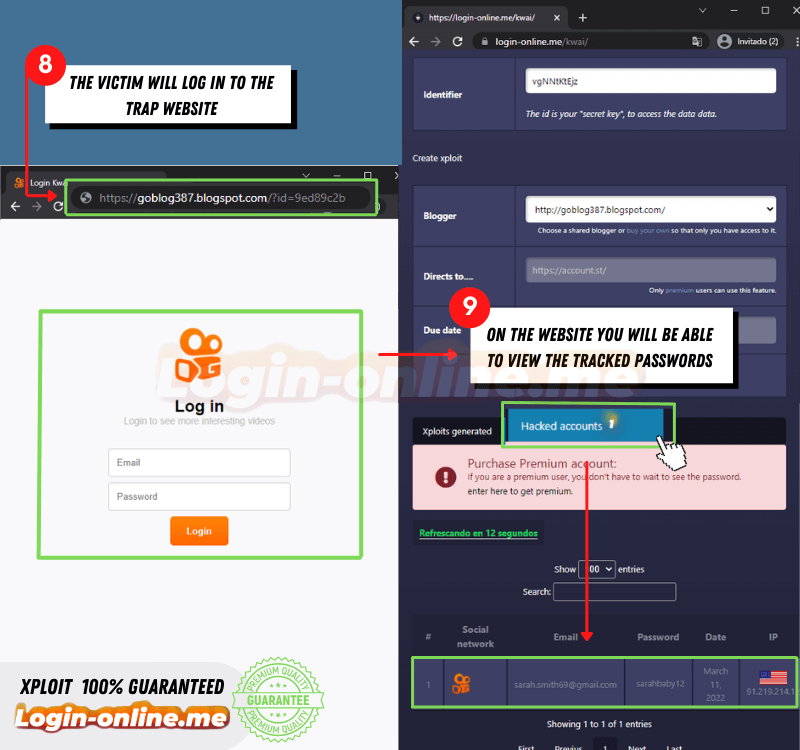 This excellent method to hack Kwai will allow you to obtain the credentials without the need to crack or hire a hacker. Xploits are computer tools that take advantage of application failures to take the administrator's data.
They are characterized by being similar to the platform, however, they are just fake login pages created to get the credentials. One of the disadvantages of Xploits is that they can be discovered by the user or generate a browser warning.
A trick to avoid this is the confidence generated by the message, this can be in a personal way asking the victim to enter the link to support you or to watch a funny video. Likewise, if you don't know the victim directly, you should make the message more attractive by including a cash offer for Kwai or some trick to earn more money in the app.
Once the user logs in, you will be able to download the data and hack their Kwai account easily and for free. In case you are discovered, you can create as many Xploits as you want and try again.
hack kwai password
Kwai is a platform with several alternatives to log in, either by phone number, Facebook or Google. And by obtaining the password of one of these last two you will be able hack Kwai in a few minutes
🔹 password manager
The first option to crack the Kwai password is the Google manager, in this section the credentials of multiple applications are stored.
To achieve this you must have access to the user's computer or device and look for the Kwai password, if it is not stored you can try their Gmail or Facebook password to try to enter the application.
🔹 Crack kwai password
So far it is not possible to hack Kwai from "forgot password" since you need the code which will be sent to the phone number. But, there is an option that allows access to the account with the password created by the user.
If the password manager has not worked for you, perhaps password cracking programs can help. There are premium or free online tools that allow you to carry out attacks or recover lost passwords.
🔹 Get a professional hacker on the Deep Web
A last alternative to access Kwai by cracking the password is to hire a professional in espionage and theft of social network credentials. On the Deep Web you will find netizens who offer services at prices that are not so accessible and with results that may not be so reliable.
If you choose this option, we recommend you to be careful and take care of your privacy to avoid risks on the network. It is important to be cautious as sometimes Deep Web hackers can have double intentions, resulting in attacks on your privacy or the installation of viruses.
Hack Kwai with Keylogger
If in addition to having the data of a Kwai account you want to spy on the user, "Keylogger.me" it's the solution. This software available on Windows, MacOS and Android operating systems logs and stores the keystrokes made by the victim.
In this way, you will not only have access to the username, password or security code, but also to the content that you consume and play.To use this tool you must follow the steps that we detail below:
Sign in and log in Keylogger.shop official website
Download the application on the computer or device to be hacked
Sign in to the device
Start monitoring the victim
Wait patiently and get the data
You can install the program with a memory or USB device on the computer of the person to Hack. Since the program works in the background, the victim will not notice it right away. The program is easy to use, and will allow you to:
have full control
Register and save the data you want
Incorporate an incognito mode
Protect your privacy
How to protect my Kwai account?
As you may have noticed, there are multiple ways to hack a Kwai account, and if you are a content creator or generate money on the platform, you will surely want to keep it safe. Therefore, we recommend you follow these tips:
✅ Set privacy on Kwai: To prevent your Kwai account from being compromised, go to settings under privacy and security and select the fields that keep your account secure. From access codes when logging in, verifications or making the profile private.
✅ Strong passwords: Avoid easy-to-guess passwords, birthdays, numbers in order, or your name. Anyone who knows certain details about you could access your Kwai account.
✅ Avoid and report suspicious content: in case of doubtful links and suspicious content, avoid giving personal information, passwords or usernames. ⚠ Stay alert to your privacy.
✅ Keep the app up to date: Most platform attacks happen when the platform is on an outdated version. Therefore, keep the Kwai updated to avoid these inconveniences.
Kwai is a platform that continues to gain popularity for those who want to generate money on the internet, in this way, more methods to hack easy and free Kwai are implemented every day. The above strategies must be used with caution and responsibility to avoid legal action.
Also, by making use of the methods to hack Kwai you protect your IP address and personal data so as not to fall victim to scammers. We hope that each of the previously presented options will be useful to you.