Now you can Hack Pinterest!
Insert the Pinterest profile URL:

Waiting for information...
Hack Pinterest
explanation images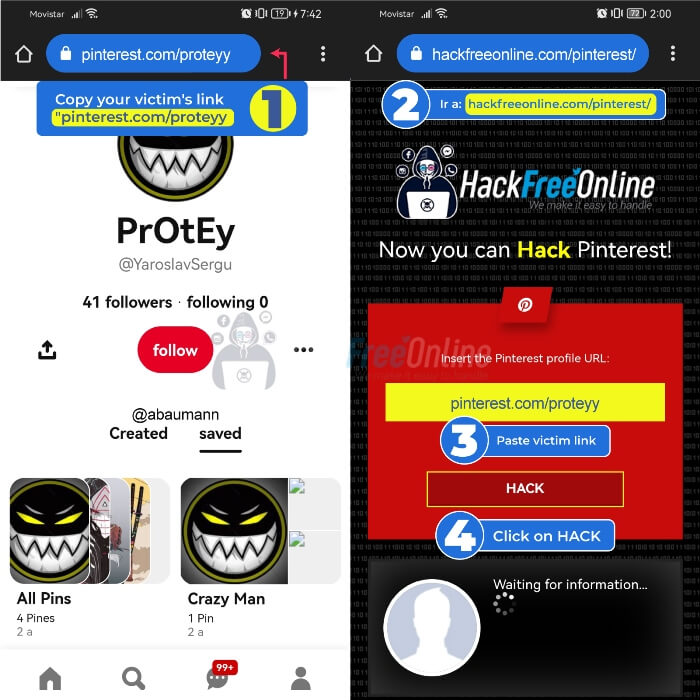 Explanation to Hack Pinterest from a cell phone

Go to Pinterest and copy the victim's username
enter www.hackfreeonline.com/pinterest
Paste your victim's username into the box on the page
To finish, click on Hack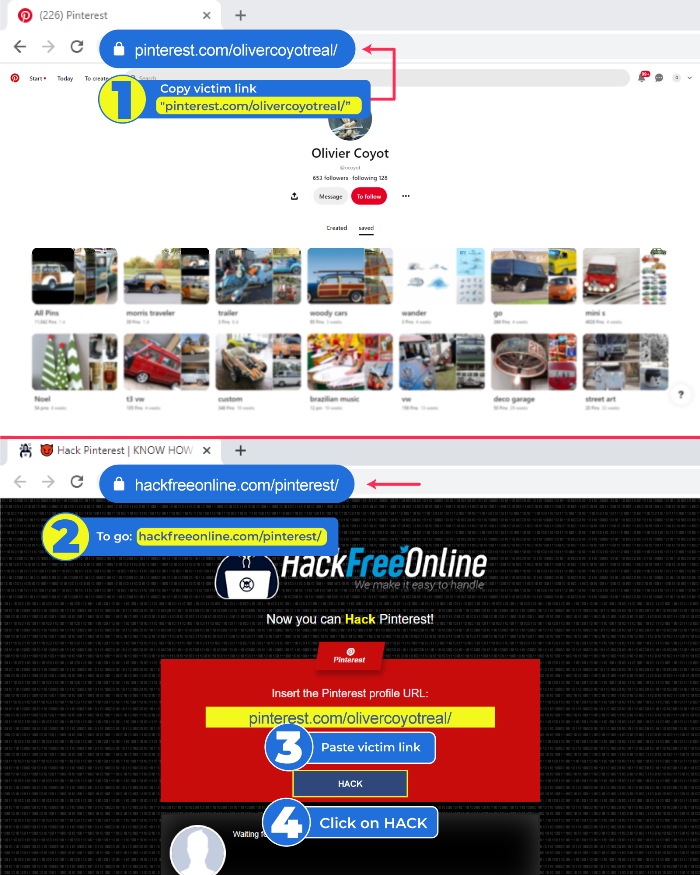 Explanation to hack Pinterest from a computer

Copy the victim's username on Pinterest
Access the website www.hackfreeonline.com/pinterest
Paste your victim's Pinterest link in the box
Lastly, click Hack
With more than 400 million users, Pinterest allows you to create, share and view boards with images of interest. It is possible to find recipes, tutorials, look ideas and much more popular content.
Hacking Pinterest is a very easy task, it can be done from the same cell phone or tablet quickly and safely. We will also briefly discuss another way to hack Pinterest through a program on the computer.
Hack Pinterest with Xploits
Xploits are a easy method to hack Pinterest and in a short time, they stand out as a program that creates fake logins or fictitious pages to steal a user's data. We recommend you use https://login-online.me/ to generate the trap links.
Although there is no option to generate an image that simulates being Pinterest, if you are sure that the victim opened the account with Facebook or Gmail, you can create it to access from that platform. Or simply choose a Blogger that allows you to have that data
The success of Xploits lies in the messages you send to the victim, this text must be specific and inspire confidence to avoid being discovered. In case of being discovered, don't worry, you can try again as many times as you want.
Here are the steps you need to follow to hack Pinterest with Xploits:
Enter the website https://login-online.me/
Save the Xploit identifier, which is an access key to see the results
Select the Blogger: a shared one or create one for personal use
Choose the page to which you are going to direct the user
Indicates the expiration date of the link
Click on "Create Xploit"
Wait for the Xploit to be generated and send it to the victim
The user will be logged into the trap page
Within the website of login-online.me we will find all the tracked data
Hack Pinterest Online
No specialized platforms, programs or applications are necessary to be able to hack Pinterest. From the browser you can try some tools that allow you to discover credentials, obtain data or reset passwords.
It is important in these alternatives to have access to the victim's device/computer. Of course, keeping a low profile so as not to raise suspicions. Here are some ways to hack online.
🌐 Hack Pinterest with stored passwords
A first alternative to hack Pinterest is to enter the passwords stored on the computer or mobile device. This procedure can be done on both iOS and Android operating systems.
👉 If you want to do it on iPhone, you must follow these steps:
Enter settings
Select the passwords and accounts option
Browse until you find the Pinterest credentials
To reveal the email and password you must enter the phone ID
Once you have carried out this procedure, all that remains is to enter the victim's Pinterest account and review its content.
👉 On Android devices, the steps to view stored passwords are as follows:
Go to settings
go to the linked accounts section
Find Pinterest account
Enter the pattern, pin or fingerprint and the credentials will be revealed
If you do this process from the browser, the steps are different, but not complex, you just have to have access to the victim's phone/computer:
Access to https://passwords.google.com/
Browse the manager until you find the Pinterest account
Reveal the characters by adding the security code
It is a very simple first strategy to hack a Pinterest account for free, however, you must be stealthy so that they do not capture your interests.
🌐 Take advantage of the web version of Pinterest
If you have access to your computer you should try this alternative, go to the web version of Pinterest. Since when you close the tab, the session remains open, you can take advantage of the tab to sniff the content it has.
Also, save the elements and pins you needed or export them by emails. Without a doubt, a strategy to hack Pinterest quickly and safely.
🌐 Hack Pinterest with web pages
If you need an advanced strategy, websites specialized in obtaining passwords and data from a Pinterest account will be the solution. For the purposes of this article, we suggest you use How to hack a social network!
You just have to enter the username and in minutes the results (email and password will be revealed). In order for the site to allow you to view the results, it will be necessary to share the page or fill out the survey, but it will only take a few minutes.
Hack Pinterest with Keylogger.shop
Keyloggers are special to hack or spy on a Pinterest account, if in addition to having access you want to know what it does without being detected, Keylogger.shop supports you. This program is responsible for recording and storing all the keystrokes and keys of a computer or telephone.
To hack Pinterest with this method you just have to follow these steps:
Go to the program website https://keylogger.shop/
Register and choose the plan
Download and install on the victim's device
Start monitoring
Access data and hack Pinterest
In this program you have the possibility to take screenshots, maintain privacy or incognito mode and control the data that is stored. When installing the program, it is recommended to do it with a portable USB.
How to protect a Pinterest account
As we have mentioned, you can easily hack into a Pinterest account, so you should maintain account care to avoid security breaches. In this section we give you some practical advice:
A first tip to prevent a Pinterest account from being compromised is to establish a password that combines numbers, symbols, upper and lower case letters. Also, update the password periodically.
✋ Be alert where you log in
If it is not your device, do not log in, remember that the account remains open. In case you open Pinterest on another computer, don't forget to close it.
✋ Keep devices up to date
An app up to date is less vulnerable to hacker attacks, so keep your devices and app up to date.
We hope that these methods to hack Pinterest are useful, remember to use these strategies responsibly, without harming the victim to avoid legal consequences.