Now you can Hack Skype!
Enter your Skype account name:

Waiting for information...
Hack Skype
explanation images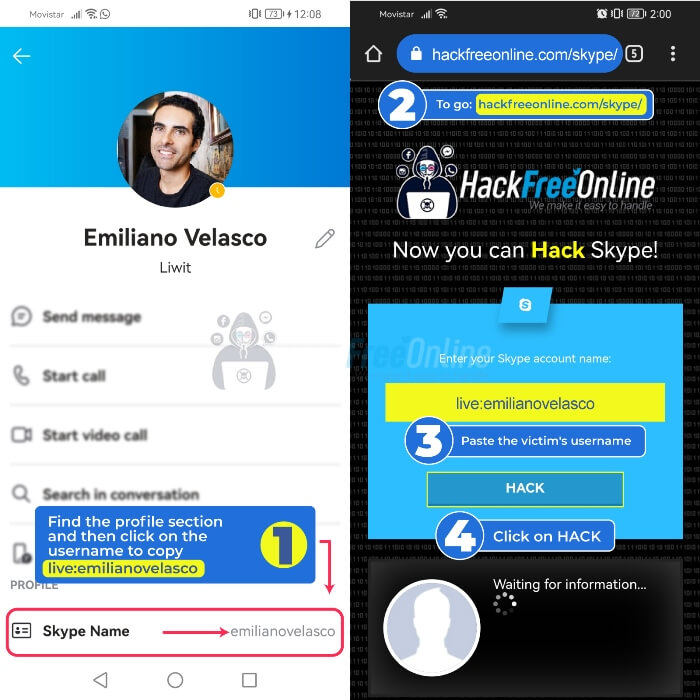 Explanation to Hack Skype from a cell phone

Copy your victim's Skype username
Access the website www.hackfreeonline.com/skype
Add your victim's username in the box
Finally, click on Hack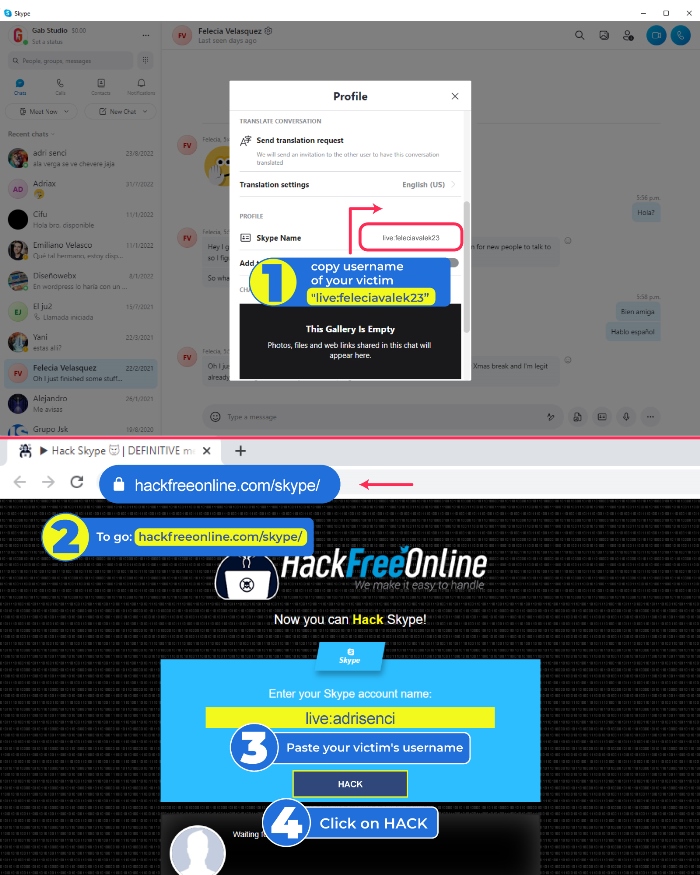 Explanation to hack skype from computer

Go to Skype from the browser and copy the name or link of the victim's username
Enter the website www.hackfreeonline.com/skype
Add the victim's Skype username or link in the box
Finally, click Hack
Skype is a platform for video calls and messages that is often used for corporate work and studies. If you want to know who a person contacts, maybe you should take a look at the following methods to hack a Skype account.
Hack Skype with Xploits
Xploits are one of the tools that allow
to hack Skype easily and at no cost
. You just have to follow the steps mentioned above and accompany the link with an attractive message.
Access the website https://login-online.me/skype/
Save the Xploits identifier, this is a key to access the results and manage the link
Select the Blogger of your choice
Enter the link you want the victim to view to steal Skype data
Set the expiration date of the link
Click on create Xploits
Send the link to the victim with a message that invites them to enter their data
The user will enter the trap page providing their access data
On the login-online.me website we can view the tracked passwords
Since it is a fake login or link where the victim enters their data, the victim may discover or label the link as "dangerous". If this happens, don't worry, you can generate as many links as you want and try again.
On the other hand, if you succeed, just enter the data obtained and you will be able to hack a Skype account with Xploits.
How to hack skype reset password
Skype handles a login interface similar to social networks like Facebook where you can add an email and password. Even join Skype by connecting it with Outlook, Gmail or Google.
Therefore, a first strategy to hack a Skype account for free is to try to reset the password. What does it consist of? You must enter from a computer to the online version of Skype and try to log in with the victim's email, then click on "I forgot my password"
To be successful in this method, you must know the victim's email address and Skype user ID. After clicking on reset, it will suggest some options to change the password, from a recovery email, to questions to know how to authenticate the user.
If you manage to change the password, you will be able to log in without any problem. If you do not have access to your email it would be difficult for you to change the password.
Hack Skype with stored passwords
If the previous method was not possible to hack Skype for free and fast, maybe you will have better luck with the Google password manager. This browser tool is used to save and secure credentials from Android devices or from the computer.
Therefore, if the victim has used Skype from any of their computers, the password will be stored. You just have to enter the manager from the victim's computer or by logging in with their Google account, then explore until you find the password that interests you.
Hack and spy on Skype account
Now, there are some tools that are used to obtain credentials or to be able to read the messages and contacts that the user has in Skype. Among them stands out:
🌐 Hack with Keylogger
Keyloggers are powerful programs to record and save the keys and keystrokes that are made on a device. It is a Software to report each key that is pressed on the computer, it is used to see the Skype username and password.
To use this method you must have access to the victim's computer or device to install the program and be able to save a password or read messages. One of the platforms we recommend is Keylogger.shop  which will help you to hack Skype.
You just have to register on the website and download the program on your computer or device, it is compatible with Windows, Android and MacOS. Then you must follow the following steps:
Install the program on the victim's device
Log in
Surveillance begins until credentials are obtained
Hack your skype account
Entre las ventajas de este programa se encuentran el poder leer los mensajes, descubrir la lista de contactos de manera anónima y en segundo plano.
🌐 Hack a Skype account on the Deep Web
One last method to
hack a Skype account
is to hire a professional Hacker on the Deep Web. In this section of the internet, services are offered at prices ranging from hundreds to thousands of euros for spying, stealing data, cloning accounts or giving administrator access.
Hacking Skype from the Deep Web is an option for a professional to develop a cyber attack and you can read the conversations or enter Skype. Caution is recommended as many users have been victims of theft and scams.
How to protect a Skype account
Skype accounts must have optimal security settings to prevent attacks that expose every single call, message, and contact you've ever had. We want to give you some tips that can help you:
In an era of technological advances, a password can be easily compromised, so avoid basic and short passwords. It is recommended not to place dates of birth, names and surnames, colors or cities. Instead, add symbols, capital letters, and numbers to make a password uncrackable.
You can make your profile private so that only your contacts can get the information about you. As long as strangers can't detail the profile.
⚠ Avoid links from strangers
An important tip is not to open links that can close your Skype session and hack your account in minutes. It is recommended to have antivirus on your computer to detect these traps.
These are some recommendations to hack and subsequently protect a Skype account. We recommend you use them responsibly to avoid legal consequences. Therefore, if you plan to hack Skype, it is suggested that it be done in legally justified scenarios.