Now you can Hack Telegram!
Enter your account of Telegram:

Waiting for information...
Hack Telegram
explanation images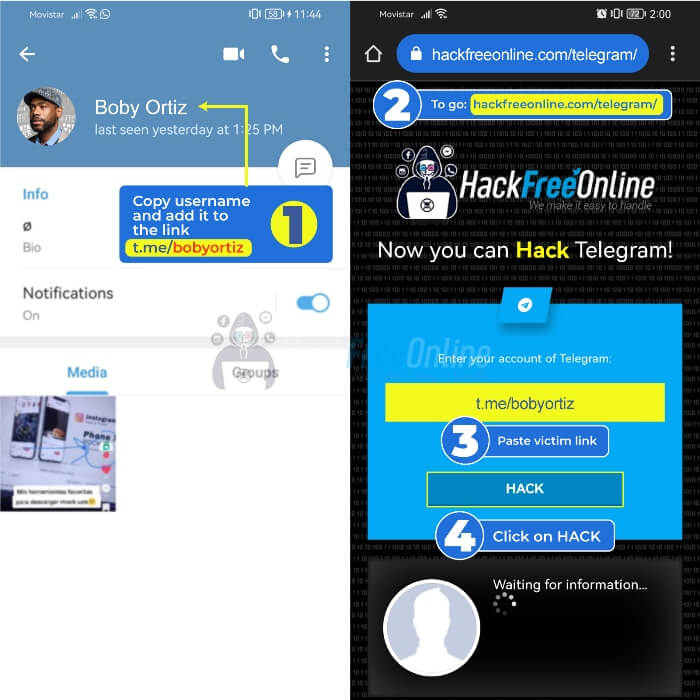 Explanation to Hack Telegram from a cell phone

Go to Telegram and copy the username or link of the victim
Sign in to www.hackfreeonline.com/telegram
Paste the username or Telegram link in the box
Finally, click on Hack.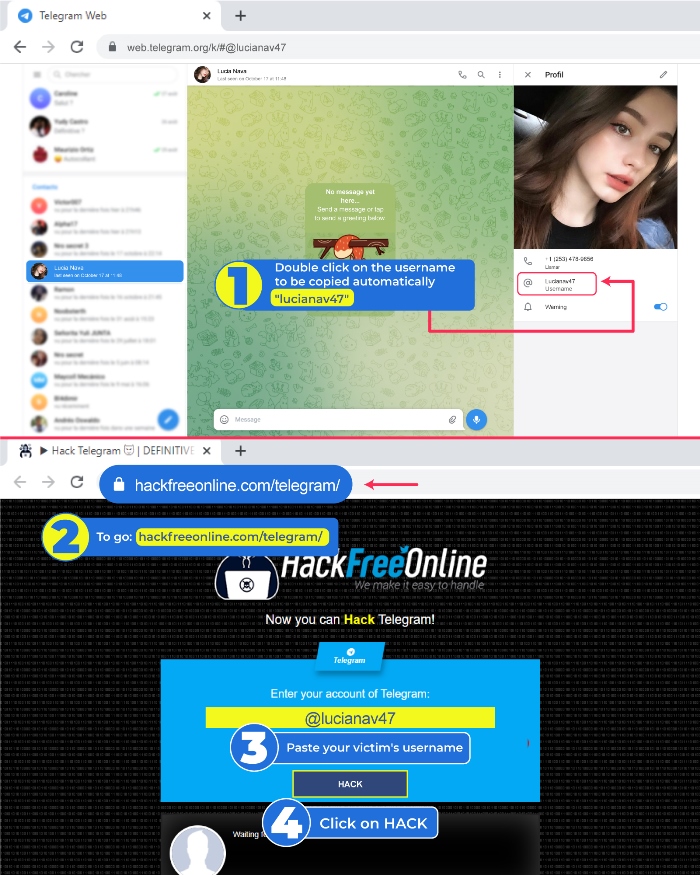 Explanation to Hack Telegram from a computer

Enter Telegram from your browser, and copy the user or link of the victim
Enter to www.hackfreeonline.com/telegram
In the box paste the link or username of the person you want to hack
Finally, click Hack
Telegram is an instant messaging application available for mobile devices and computers, which has numerous users worldwide, becoming a powerful rival to WhatsApp. Its main feature is security, but you may be wondering: Is it possible to hack Telegram??
If you want to read Telegram messages without the account owner knowing about it, maybe you should know some methods to hack Telegram easily..
Hack Telegram with Xploits
An excellent method to hack Telegram easily and quickly is Xploits, which are computer systems that simulate the appearance of a website or application to steal data. Although so far you do not have a Telegram Blogger, there are still alternatives to be able to hack Telegram with this method.
Go to website https://login-online.me
Save the Xploits identifier to be able to access the results obtained at any time
Select the Blogger of your choice, in this case the Telegram option is not available, but you can choose one that favors you
Enter a link, video or login to exploit the data of the victim
Add a link expiration date
Click generate Xploits
Send the link to the victim with a captivating message
The user will be logged into the trap page
On the login-online.me website you can view the tracked passwords
You can create a Messenger, Instagram or Facebook Xploits and enter a link to ask for the phone number or credentials to hack Telegram in a few minutes. It is important that this link includes a message that encourages the victim to enter their data, here are some ideas:
✅ Message to ask for favor or support: if you are a friend of the victim, you can take advantage of it by asking them to enter the link to support you in a raffle or to view some content that favors you.
✅ Message of royalties and offers: if the victim is only an acquaintance, you can create a text with a symbolic offer such as winning electronic prizes, getting discounts or important information.
Once the user has accessed and offers the data, you can download everything and easily hack a Telegram account.
Hack Telegram with browser
Hacking Telegram does not have to be a tedious task, from the browser you will be able to have the data you need to violate the account. Of course, to achieve success in the following options it is necessary to have access to the victim's computer.
🔶 Use Telegram web
The first option to hack Telegram with the browser is to use the web tool, in which you can scan the QR code and log in. If you have access to the victim's cell phone, you can take it and try to log into your computer without them noticing.
With this web version of Telegram, you will be able to read messages, reply, access their channels and files. It is a very simple way to spy and hack Telegram.
🔶 hack computer remotely
Another method to hack Telegram if you keep your computer logged in is to use programs to spy on conversations remotely. There are hacker programs with specialized interfaces to control a computer remotely.
Through these programs you will be able to see everything the user does, who they write to on Telegram, what content they consume and personal information stored on the platform.
🔶 Leverage logins
In case you do not have access to the cell phone to log in, there is another strategy to hack and spy on Telegram. You need to be close to the victim's computer.
To hack Telegram with open sessions of the web version, you need to enter the victim's computer and open a "Telegram web" tab. Since the session remains active when you close the window, you may be able to find all the information you need.
As a last move, you can persuade the victim to log into your computer with a convincing excuse and prevent the end of "the favor" from closing the Telegram session.
Hack Telegram with Keylogger
One of the best program alternatives to spy on and record the content of a computer or device remotely are Keyloggers. We suggest you use Keylogger.shop to hack Telegram.
With Keylogger.me you will be able to spy on the victim, and register each of the keystrokes and clicks that are made on the device. Now, we propose some steps to be successful when hacking Telegram:
Access Keylogger.shop official site
Login and download the program
Install the program on the victim's computer or device where they use Telegram
Log in to the victim's computer or device to start monitoring
Register and save the data you want
Keylogger has advantages such as its background system, the incognito mode and the options to customize the information that is recorded.
Hack Telegram with WiFi
A final riskier method is to configure the Wi-Fi network in order to access personal information on a cell phone or computer. Perhaps for this strategy you will need more knowledge to install software that configures the wireless network.
There are hundreds of spy programs that use networks as camouflage, most of the programs require the purchase of a license, but it is worth the investment. Now, how do they work? The victim must connect to your Wi-Fi and this will have a plugin that allows you to capture the screen or see in real time what the user does.
In short, there are hundreds of strategies to be able to hack Telegram, but it is important that these are not used to harm or spread people's privacy. In that case, there will be legal consequences, it is recommended to use the methods responsibly.
Also, take care of privacy when trying to hack to avoid espionage, harassment or viruses that damage the computer. It is essential to be very careful depending on the method we select to enter the platform.
We hope that the above is useful and you can hack Telegram.